Skip to content
Multi-Media Artist & Keynote Speaker
The "Common Sense" Defense
Sooooo often… sooooo unbelievably often… I hear some variation of the following statement while out training, teaching, or speaking:
"I already 'know' all of this stuff; it's all just 'common sense'…"
Really? Give me a break… It's a BIG, ballsy statement if you really think about it.
Someone is basically saying: "There's nothing you have to offer here that I've not already learned, been exposed to, or already mastered. Your entire life, life experiences, and acquired education can offer me nothing new and useful to apply to my life because I ALREADY KNOW EVERYTHING."
Wow! Read it again and SAY it out loud this time; hear just how ridiculous this claim actually is…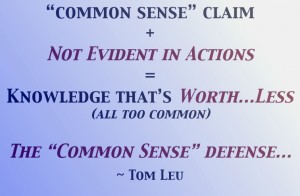 By even making this assertion, you're demonstrating the exact opposite of what you're claiming. <Strike 1>. This supposed knowing indirectly asserts that the information is somehow less valuable because it's "common" and therefore a commodity.
The BIG question you should be asking yourself: "Is this knowledge I claim to have evident in my actions?" If the answer is 'No' it doesn't matter how much you 'Know.' It quickly becomes knowledge that is worth… less. Not worthless, just less valuable. <Strike 2>.
Knowledge is good. Acquire all you can. Learn, and then learn some more. Read and research 'til your heart's content. But KNOW this: Knowing and doing are completely different. We all "know" lots of things. It doesn't mean we consistently apply what we know. It's not enough to know about something or to simply talk about something. We have to DO something and make things happen for the common to become uncommon. Recognizing this distinction and putting good knowledge into action to produce real, tangible results is rare.
Uncommon success in any area of life requires taking common sense on the road so-to-speak.
Those who are unable to bridge this knowledge-to-action gap (either because of oblivion or obstinance), are likely suffering from what I call the "Common Sense" Defense. This is a conscious and/or subconscious defense mechanism people use to manage their disappointment around their lack of progress or production in certain areas. This technique shields a person from the discomfort associated with facing themselves up-close-and-personal. This is so uncomfortable for many, that any method to avoid it will be employed. The most common tactic is to claim "common sense."
"Common sense is the collection of prejudices acquired by age 18." ~ Albert Einstein
Smoking is an obvious, yet powerful example. No one will argue that smoking is hazardous for the health of the human body. People die from it every day. We can call this common sense because everybody knows it. Yet millions still smoke despite this common knowledge. History proves that the most profound wisdom and universal truths are simple to understand, yet often difficult to implement.
If your supposed knowledge is not evident in your actions; if I cannot "see" it demonstrated in your behavior, then this "knowledge" you claim is compromised, therefore inconsequential.
the shiFt:
Instead of proclaiming what you supposedly "know," start demonstrating it in what you DO, everyday, in every way. Of course what some call common sense, others call crazy. It becomes a matter of perspective based on one's social, cultural and educational background.
Soooo, to all of the "know-it-alls" out there, keep reading, listening, and watching here, there, and everywhere because YOU are the ones who likely Need It Most… If not, <Strike 3>…
Stay tuned-in…
---
Please share and click HERE for info on my Communichology™ course.
Get my articles and exclusive content with science-based insights to shiFt your communication from adequate to ass-kicking!