Speaking
Tom Leu, MS/CPC is a professional speaker, author, coach, photographer, and radio host. Tom's Lifestyle Initiative Training™ techniques and strategies teach how compelling communication skills married with provocative psychological insights produce relevant real-world results. Tom has degrees in Psychology and Sociology, and has trained with the world's leading personal development organizations including the Tony Robbins and Steven Covey companies. To date, Tom has spoken to audiences in over 40 cities across 20 states throughout the country blending his passions for communications, psychology, and photography. Tom challenges audiences to "see things" literally through lenses; figuratively despite filters via principles of Communications-Psychology he calls Communichology™…
Communichology™ is the art and science exploring the often-overlooked and misunderstood relationship between communication (styles and skills) and human psychology that defines tomorrow's leaders today.
Tom's multimedia presentations challenge audiences at all levels, to begin "seeing things" differently. New perceptions, shiFt perspectives, producing improved communication skills that elevate leadership effectiveness, resulting in inspired productivity individually and collectively. Tom's core message uncovers the 'how' and 'why' this dynamic intersection ultimately affects what people do and don't do, day-to-day, moment-to-moment. Intimately understanding the ways in which these two disciplines interact give people a unique advantage both personally and professionally. It's social strategy CPR… compelling, provocative, and relevant distinctions and techniques to have a communicational advantage in any setting, with anyone, at any time.
Speaking Sessions

: (customizable for your organization or event):
*Improved communication affecting improved productivity is not only nice, but necessary in today's fast-paced, hyper-connected world more than ever before… everyone's personal and professional growth depend on it.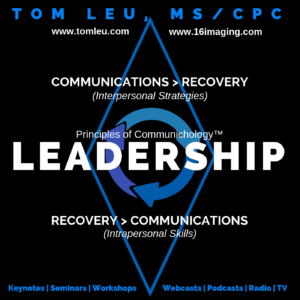 **Key Topic Themes: Communications, Leadership, Team Building, Personal Development, Body Language
"SEEING THINGS" – Literally through Lenses; Figuratively despite Filters. How New Perceptions shiFt Perspectives to Shape New Outcomes
"TUNING INTO WIIFM?" – Flipping the script with 180° Delivery of Compelling Content with Real-World Relevance
"THE ROCKSTAR WAY" – As a 30 year musician, music industry insider, concert photographer, and radio host, Tom shares what the world's biggest rock stars and musicians can teach us about effective leadership in the 21st Century
"TALKING SHIFT" – The Art, Science, & Psychology of Recovering Communications Excellence Bringing the Service back Into Customer Service – Keys to Communications-Recovery via principles of Communichology™ – shifting the conversation by calling out careless communication, bad behavior, and poisonous pop culture psychology & their alternatives.
"LEADERSHIP BEGINS WITH "Y" – An Inside-Out Look at How & WHY Servant Leadership Strategically Modifies Interpersonal Behavior, Builds Teams, & Positively Drives Business Outcomes
"HUMAN RELATIONS & THE 'COMMON SENSE' DEFENSE" – The Hard Truth About Soft Skills in Today's Over-Communicated & Hyper-Connected World
"HUMANS BEING" – Tom takes you on a journey across the country within his collection of compelling and provocative candid images of humans being captured in their natural environments. A must see presentation that will leave you reflective, inspired, and better equipped to shiFt your daily awareness, as well as your actions for improved personal and professional outcomes.
>> Image gallery HERE…
Tom incorporates more than two and a half decades of professional experience into his speaking engagements working for Fortune 500 companies as an award-winning account manager and sales trainer, college administrator and instructor, TV and radio host, musician and entrepreneur. Tom talks shiFt and encourage peoples to be the best at what they do the best, and to assist building the bridges between passion and purpose, desire and decision, excitement and execution for individuals and groups.
Tom has written hundreds of motivational and inspirational articles on communications, psychology, & leadership for online and print periodicals, published the Musician's Corner® series of articles, books and audio books, and produces numerous other motivational audio and video programs. Tom's cogent and sententious style speaks to both youth and adults alike as he draws from his experiences in the music business, as a media personality, teacher, trainer, and as a corporate sales professional. Tom's cutting edge style and contemporary delivery engage listeners from the start, blending the insights of teacher and the encouragement of a coach, with the energy and excitement of a rock concert. Participants at Tom's live presentations come away with valuable lessons and insights to apply to their lives immediately.
Tom's Essential Credentials Include:

– Keynote/conference speaker, seminar leader, corporate trainer, & event emcee.
– Certified Professional Coach and Body Language Trainer
– College administrator & instructor.
– Self-published author and columnist.
– Professional digital photographer.
– TV host, radio host & DJ, multi-media producer & musician.
– M.S. Psychology | B.S. Sociology
Tom is available for keynote speaking engagements, seminars and emcee appearances at conferences, corporations, retreats, schools, youth groups, institutions, and entertainment-industry events.
*Speaking fees vary based upon length of the presentation, location of event and other factors. Typically, business travel and expenses are additional costs above the speaking fee.**Customizable keynotes and breakout sessions are available for your event's particular requirements.
Speaker Bio:
Tom Leu, M.S. is a Member of the National Speakers Association, a Certified Professional Coach (CPC), and Certified Trainer for the Body Language Institute. Tom is also a professional photographer and host of two radio shows that air in Illinois, Florida, and around the world as podcasts. Tom was previously the Academic Dean at Rockford Career College in Rockford, IL, and has also worked as an Account Manager at McGraw-Hill Higher Education. Researching from a social psychological perspective, Tom created a new discipline of study called Communichology™ in which he presents from the unique vantage point where communication skills and human psychology collide. Tom is a sought-after speaker on topics pertaining to advanced communications skills, leadership, the new body language, emotional and social intelligences, persuasion and influence. Tom's professional career includes over two decades of experience as a college administrator & instructor, keynote speaker, corporate trainer & seminar leader, radio & television host, author, & photographer.
>> Please EMAIL us with inquiries.