Skip to content
Multi-Media Artist & Keynote Speaker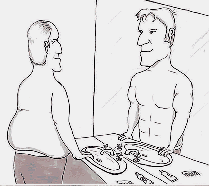 Sure you look into it, but are you truly "seeing" what's there? Some are subconsciously afraid of the mirror. Not for what they see, but for what they don't want to see. It's precisely this kind of pride-leveling that's necessary for growth.
Sometimes it's necessary to make changes to things that may have long been apart of who you've been and who you are, but are now holding you back.
"Everyone thinks of changing the world, but no one thinks of changing himself." – Leo Tolstoy
Most skip right over this truth. No one wants to change themselves; but most of us need to. Big difference. Truly look at yourself inside out. Pay attention to what hasn't been working in life up to this point. Then decide if you really want to make some changes. If your motivation for change is more about wanting to rather than needing to, your results will be greater.
If you're honestly in the right place, doing the right things, with and for the right people, then commit to doing everything you can not to screw it up. Look in the mirror, make the tough decisions, and continue making the necessary changes as needed.
Your perceived reality depends on it.
For more >> www.RecoveryCollective.net
Stay tuned-in…